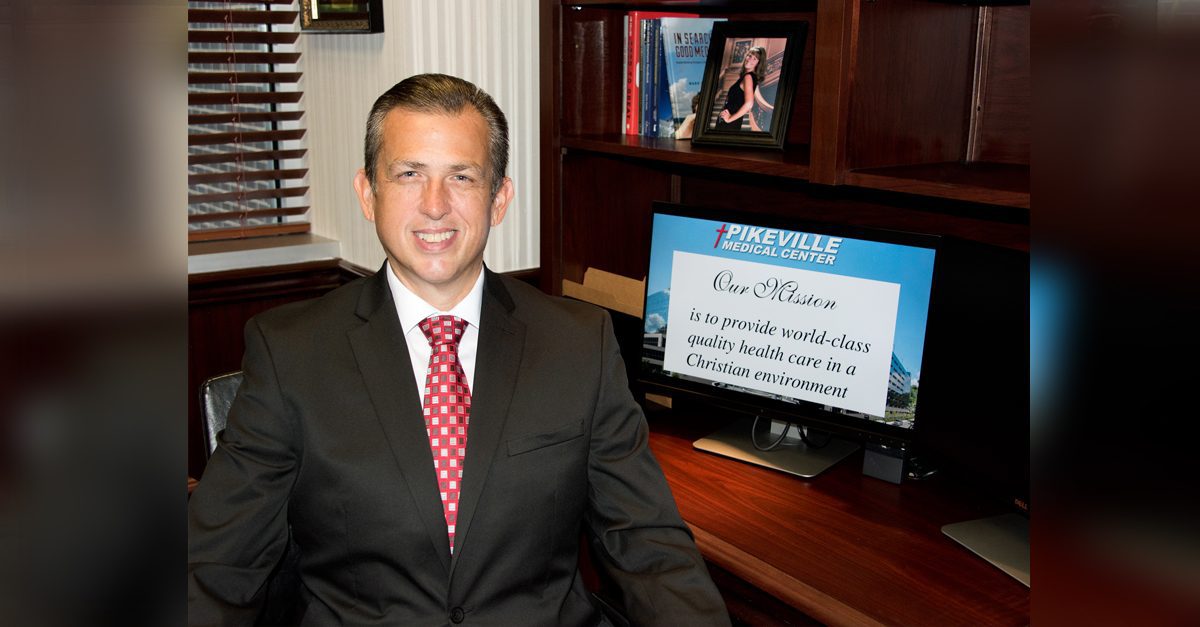 Pikeville Medical Center (PMC) Chief Executive Officer Donovan Blackburn has been appointed to the PMC Board of Directors. He is now serving as the new Vice President of the board.
Blackburn says assuming this role is all about timing.
He began his career at PMC in June 2017 as Assistant CEO. The original plan was for Blackburn to use the first year and a half to two year transition time as a learning opportunity.
After only a few months he was named COO in addition to his duties as the Assistant CEO. Due to the retirement of the former CEO, Blackburn became the full-time CEO for PMC in January 2018. His business insight was a valuable tool for him. He came to the organization with an extensive background in government, sales, marketing and management providing him with the ability to learn the hospital business at a rapid pace.
He was approached by PMC Board of Directors President Ron Burchett and Vice President Alex Poulos, MD, when being named as CEO regarding delaying a board appointment in order to allow adequate time to focus on his new CEO duties.
"We discussed board appointments in great detail. We knew there were several members who were planning to retire in the very near future," said Blackburn. "I was eager and excited in my role as CEO and was anxious to learn as much as possible. I did not feel that the time was right for me to serve as a board member then. I wanted to lead the hospital and become comfortable in my new role before being considered for a seat on the board."
Blackburn said his wife, Debbie Blackburn, had been on the board of directors four years prior to his arrival at PMC. At that time, the board consisted of several seasoned members and was adding new pillars of the community to the group.
"The board added a banker, attorney, engineer, a couple of new physicians, energy manager and it was also time to bring on a new Chief of Staff," added Blackburn. "There was a lot of transition going on but we had a great mix of people on our board." He continued by saying, "Under the outstanding leadership of President Ron Burchett, PMC is blessed to have such great talent, as board members, leading our organization."
He said it was not long before his wife announced she was leaving the board and becoming a volunteer for the hospital. About that same time, Dr. Dennis Halbert and Dr. Poulos, decided it was also time for their retirement. Because the hospital had made great strides in operations, policy and financial improvement, Blackburn was now ready to be considered for a board member leadership role.
"We were faced with some pretty serious challenges over the past year or so," he said. "Today, we are in a much better place. Thanks to the leadership of the board of directors, executive staff and 3,000 employee ambassadors, we are making great financial strides and are bringing in many needed services for the people of our region."
PMC has added their first clinic in the Martin community, purchased and remodeled a hotel in Whitesburg to expand and better serve patients, purchased property to expand the clinic in South Williamson and most recently closed a deal on property in the Prestonsburg area with plans to develop an Urgent Care Facility.
"We are doing an extensive remodel and expansion in our Heart and Vascular Institute, our laboratory has fully completed their expansion with the addition of one of the state's most advanced automated lines and we have three new state-of-the-art cath labs that have changed health care in eastern KY forever," said Blackburn. "We are adding new technology and new physicians as we continue to bring tremendous growth to our region."
Blackburn says he cannot predict the future for health care since much of the direction comes through federal and state control, but he and the PMC senior leadership team are committed to making it the best it can be.
"I have worked with an amazing number of excellent leaders and innovators throughout my career, but I can honestly say I have never worked with a board of directors more dedicated and engaged than the wonderful people who make up our board," added Blackburn. "Our executive and senior leadership teams are people who understand this business, have years of experience and are phenomenal leaders. They are committed to the patients and more than 3,000 remarkable people who make up our organization."
The hospital represents over 20 percent of Pike County's wages and salaries. PMC is the leading economic engine for the area and is taking that responsibly seriously by planning for growth through new jobs and bringing even more specialty physicians and medical services to the area.
Blackburn says they are focusing on improving their facilities while offering the best service lines, expanding heart care, primary care and the pediatric program.
The immediate goals for the organization are to create relationships with other hospitals, move the Leonard Lawson Cancer Center to the 10th floor Clinic, expand the Outpatient Lab and PFT and move to the 11th floor Clinic making access easier for our patients and visitors.
Blackburn said, "We want to improve our patient flow and the way we greet our patients and visitors at PMC. We want to be the best in the nation, when it comes to patient experience."
The PMC Board of Directors include: President Ron Burchett; Vice President Donovan Blackburn; Secretary Joe Dean Anderson; Chief of Staff Dr. Philip Leipprandt; David Baird; David Collins; Dr. Aaron Crum; Linda Justice; John LaBreche; Clint Martin; Mike McCoy; Dr. Jyothi Mettu; Jo Nell Robinson; Robert Shurtleff and Dr. Mary Simpson.
For additional information about Pikeville Medical Center visit www.pikevillehospital.org or call 606-218-3500.