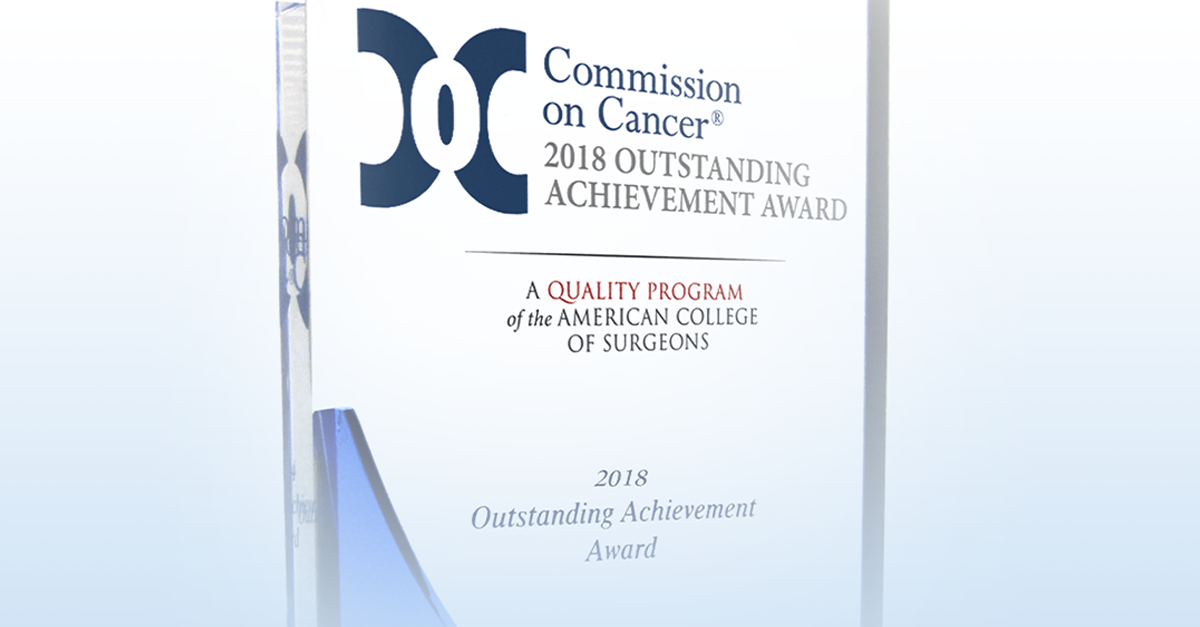 Pikeville Medical Center (PMC) was recently awarded the 2018 Outstanding Achievement Award by the Commission on Cancer (CoC) of the American College of Surgeons (ACS).  PMC is part of an elite group of health care facilities, which includes 24 U.S accredited cancer programs to receive this national honor for cancer surveys performed Jan. 1 – Dec. 31, 2018. This marks the fourth consecutive survey cycle for which PMC has received the award.
PMC's cancer program was evaluated on 34 standards categorized within five cancer program activity areas: program management, clinical services, continuum of care services, patient outcomes, and data quality. The cancer program was further evaluated on seven commendation standards.
To be eligible for the Outstanding Achievement Award, cancer programs must receive commendation ratings in all seven commendation standards, in addition to receiving a compliance rating for each of the other 27 standards. PMC was awarded the highest level of achievement, Three-Year Commendation – Gold level.
"Congratulations to the PMC oncology staff for receiving the Gold Level Oncology Certification from the American College of Surgeons," said Cheryl Hickman Senior Vice President/Chief Regulatory Officer. "This is the highest level achievable, which confirms the excellent care and commitment that they give to our oncology patients every day,"
The Outstanding Achievement Award acknowledges cancer programs that achieve excellence in providing quality care to cancer patients.
Quality standards established by the CoC ensures that the Leonard Lawson Cancer Center maintains comprehensive care, including a complete range of state-of-the-art services and equipment, with a multidisciplinary team approach to coordinate the best available treatment options. This includes a cancer registry that offers lifelong follow-up with ongoing monitoring.
For the community, this award ensures continued access to prevention and early detection programs, support services and education on available quality-care options.