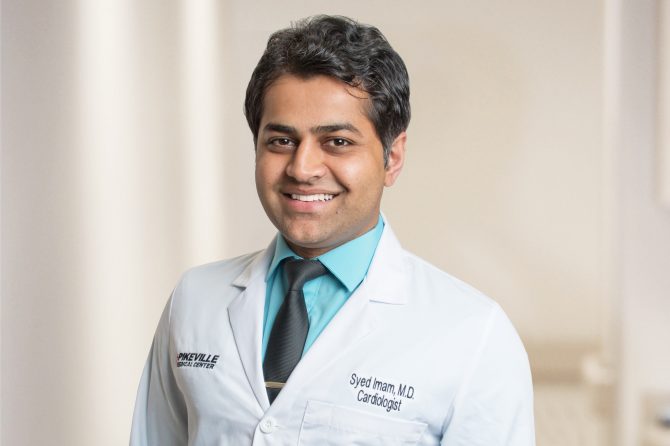 Pikeville Medical Center (PMC) proudly announces the addition of Syed Haider Imam, MD, general cardiologist.
Dr. Imam received his medical degree from Aga Khan Medial University in Karachi, Pakistan. He is board certified by the American Board of Internal Medicine and he completed his residency and fellowship in SUNY Upstate Medical University, Syracuse, NY.
Dr. Imam specializes in the diagnosis and treatment of cardiovascular disease.
"Cardiac physiology has always fascinated me and made perfect sense, even while I was in high school and college," said Dr. Imam. "This passion grew stronger as I started medical school."
He says before he began his formal education he enjoyed visiting the cath lab just to watch actual cardiac procedures.
"I feel cardiology is a very rewarding field in many ways," said Dr. Imam.
He credits his father, a retired hematologist and oncologist, as his mentor.
Dr. Imam said, "He taught me to never give up on life goals and to always give 100% towards anything you do."
He says he is passionate about helping patients prevent heart disease.
"My patients are my top priority and I want them to feel welcome at all times," he said. "Together, the patient and I work on strategies for lifestyle modifications with an emphasis on exercise, diet and stress reduction."
He says he finds immense pleasure in making his patients feel better and he focuses heavily on patient satisfaction.
When asked why he chose PMC he said, "I was amazed to see this state-of-the-art facility in Pikeville. There is a great camaraderie among physicians who bring a wealth of experience from different places."
He says he can see himself growing as a person and as a physician at PMC and is excited about working with the technology available for patient care.
Dr. Imam is an avid sportsman. He enjoys playing sports especially soccer, cricket and table tennis. He is a foodie and loves exploring eastern Kentucky with his wife, Arzoo.
Dr. Imam's office is located in the PMC Heart and Vascular Institute on the first floor of the Elliott Building and he will also be seeing patients at the PMC Specialty Clinic at Whitesburg, KY.