Representatives from Pikeville Medical Leonard Lawson Cancer Center (LLCC) recently traveled to Lexington to accept a grant to provide early detection screenings for lung cancer.  Thanks to the generosity of the Lexington Cancer Foundation, the $15,000 dollar grant will allow 125 people at a higher risk for developing lung cancer to receive a low-dose CT scan at no cost.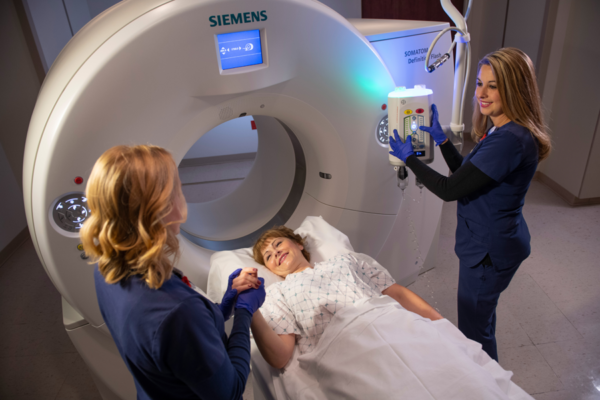 A recent study from the American Lung Association states that Kentucky has the highest rates of lung cancer nationwide which makes this particular grant critical for those who care for patients fighting the disease.   "This will truly allow us to make a difference with our patients and their lives," explained PMC Hematologist/Oncologist Christopher Croot, MD, Vice President of Oncology Services.  "Any assistance we can give to help our patients and grow our program is absolutely critical.  This grant will save lives."
In the past, traditional x-rays were performed to detect lung cancer in patients.  However, for patients who meet certain criteria, a low-dose CT scan has been proven to be more effective in detecting lung cancer at an earlier stage.  A traditional x-ray is able to identify potential lung cancer the size of a dime.   However, a low-dose CT scan is able to identify early-stage lung cancer when it is the size of a grain of rice, greatly increasing the chances for survival.
The American Cancer Society recommends annual lung cancer screenings with a low-dose CT scan for people at a higher risk for lung cancer who meet the following conditions:  those who are ages 55 to 74 years and in fairly good health, those who currently smoke or have quit within the past 15 years, and anyone with at least a 30-pack-per-year smoking history.
Screenings were held this week and many of the high-risk patients who will receive the free low-dose CT scans have been identified. For more information on low-dose CT lung cancer screenings, please call 606-218-3500.