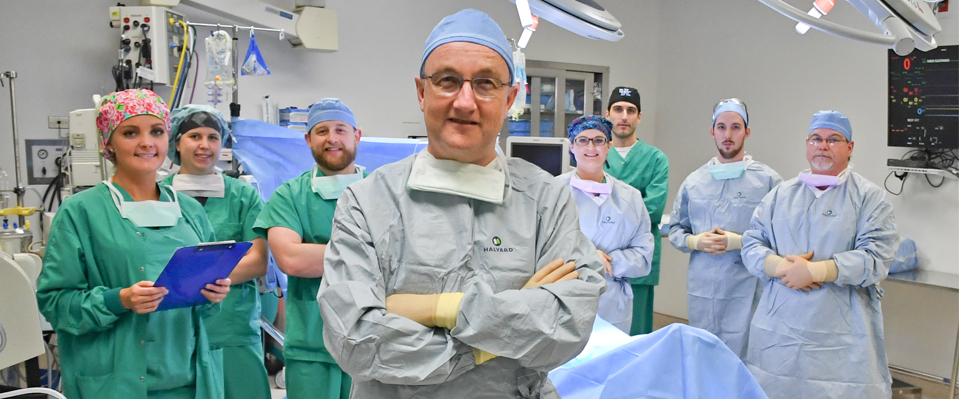 PIKEVILLE – Pikeville Medical Center (PMC) Cardiothoracic Surgeon, Dermot P. Halpin, MD, has successfully performed the first minimally invasive heart bypass surgery at PMC. Dr. Halpin brings 10 years of experience performing this advanced heart procedure to the region.
"To my knowledge, no one else in Kentucky, east of Louisville is performing this specific procedure," said Dr. Halpin.
The surgery is commonly called a minimally invasive Coronary Artery Bypass Grafting (CABG) or a keyhole heart surgery. Instead of traditionally going through the breast bone, a small incision is made between the ribs, underneath the breast where the bypass surgery is performed.
"Not everyone is a candidate," said Dr. Halpin "It is used for people who have a single blockage in the vessel on the front of the heart. The other indication is for patients who have two blockages, as part of a hybrid procedure, combining minimally invasive bypass with stents. Some patients, who may be too frail for conventional heart surgery, are also great candidates.
The procedure brings a more rapid recovery with a shorter hospital stay and it brings a survival advantage to the patient. In general, there are less complications and a faster return to work with no incisions on the legs.
Dr. Halpin says he feels this procedure is a huge advantage for patients at PMC.
"The advantage at PMC is the patients do not have to travel out of town for these procedures," said Dr. Halpin. "On a larger level, heart surgery is becoming more of a team approach. At PMC, we have a team approach where we sit down with the cardiologists and discuss each patient and the treatment plan that is best for them. Our goal is to provide better patient outcomes and excellent care."
"Pikeville Medical Center prides itself on cutting-edge procedures like the minimally invasive heart bypass surgery. This breakthrough for PMC's open heart program is important because it allows quality heart surgery done without breaking through the breast bone or opening up the whole chest," said PMC President and CEO Walter E. May. "Our physicians and support staff are the top in their fields. We are extremely proud of Dr. Halpin and his team and I look forward to watching their continued success."
PMC Cardiothoracic Surgeons Dr. Dermot P. Halpin and Dr. Abdulla Attum are accomplished surgeons who will continue performing these complex procedures for patients in the future.
For additional information about the minimally invasive heart bypass surgery or other procedures available at PMC, call 606-430-2202.